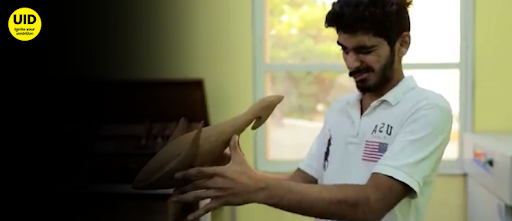 The four year program focuses on skills specific to automotive at very early stage viz. automobile sketching, learning styling cues, surface modeling, clay modeling, thereafter the design process follows, in context of automotive design, that includes abstracting, applying aesthetic values to conceptualizing visually appealing forms, combined with exposure to potent strands of user centric and utilitarian approaches. The constant exposure to industry trends, practices in classroom teaching model, are very hands-on in nature, thus equilibrating the aspects of excitement and passion, as part of the learning experience.
B.Design (B.Des.) Automobile and Transportation Design is offered as part of School of Industrial Design
School of Industrial Design 
The ATD department has a vison for contributing to ever changing landscape of automobile design of today and future. Being clustered within the School of Industrial Design, along with other rich disciplines of Design, sets aside for multi disciplinary learning outcomes and contributions to society and human lifestyle.
The pedagogy DNA focuses to sensitize and channelize the passionate energy of the young learners, to the world of appreciation of form and aesthetic values of vehicle design, through a rigorous hands-on approach, and equip them to be able to generate exhilarating concepts that is appropriate to the running trends of automotive design. The pedagogy goes one step ahead in addressing one of the key challenges of today, of conjoining the trending mobility technologies with styling skills, aimed at reimagining and creating innovative mobility solutions in contemporary world, pushing the students to think as the new creative entrepreneurs.