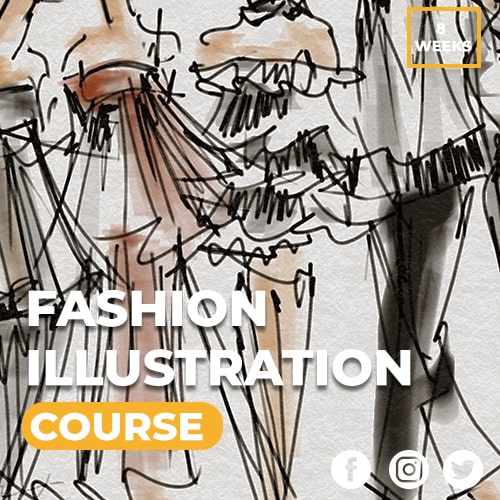 Fashion Illustration Course :
The 8 weeks  Design Process and Illustration Course is the perfect solution for the learner who would like to understand fundamentals of fashion design like basic poses, female fashion croquis (female face, hands, body leg movement) , rendering with different color mediums, the process of artwork development. 
The aim of this course is to strengthen the basic proportion of fashion illustration and introduce various mediums of drawing skills.  It will help them develop creative expression and their ideas. At the same time, they will also learn fashion illustration from basic to final conceptualization.
Understanding measurements of Basic 10 head block fashion figure, Fashion illustration, Fashion Croquis, understanding its definition and relevance in the fashion industry.
Fashion Croqui- 10 head measurement

The difference between male and female body structure

Introducing balance and movement in to the croquis

Rendering of body and hair
Rendering of Various fabrics, embroideries, prints, detailing etc

Making theme boards and swatch designs

Learning about various Indian wear garments taking inspiration from Indian designers-  Cocktail, partywear, occasion wear, heavies and Bridal
The demonstration stage is to challenge the creativity of the learner.
The learner is expected to present their self-directed projects/design. This is an essential aspect of being a designer.
Putting illustration work together in the form of a folio

Various styles of presentation i.e. computers application cutting mounting collages etc

Doubt Session
The learner is expected to compile their work and present their self-directed projects/design. They will also build a portfolio of their work. This is an essential aspect of being a designer.
Advanced Fashion Illustration
Advanced Fashion Illustration
Advanced level fashion illustration course of 1 month includes following topics:
10 head croquis
Face features
Traditional hairstyles and rendering
Skin rendering
Pleats, folds, and gathers ( in fabric rendering)
Golden embroideries and borders
Technique of transparency
Prints and patterns
Drapes ( sarees, different kinds of dupatta drapes)
Drawing from reference pictures
Discount offer valid only till 31st july!